Last modified: September 01, 2023
This is to clarify the cookies policy of the https://sellermonitor.com/ website.
This is an agreement ("Agreement") between jordiobdotcom SL ("sellermonitor.com"), the owner and operator of the https://sellermonitor.com/ website and any associated services offered (collectively the "Website") and you ("you" , "Your" or "user(s)"), a user of the Website.
Throughout this Agreement, the words "Gadget Advisor", "Website", "we", "us", "us" and "our" refer to our company, jordiobdotcom SL, as appropriate in the context of the use of the words.
Personal Data Controller
The data controller for the processing of personal data, if any, collected through this Website is: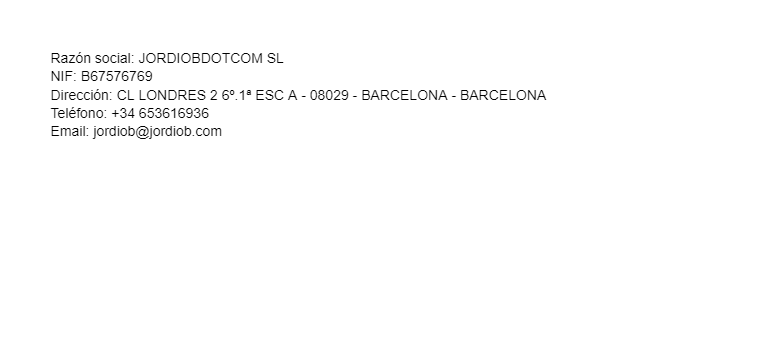 To contact us directly and effectively, you can send an email to the following address: info (at) sellermonitor.com
Gadget Advisor is committed to protecting your personal information and ensuring that your experience with us is as secure and enjoyable as possible.
In this section, you will find information on how and why we use cookies to improve our service and your web experience.
You will also find out how to manage the information that is collected.
What are cookies?
Most websites use cookies to enhance your browsing experience.
Cookies are small amounts of information in the form of text files that websites send to your computer, cell phone or other device when you visit our website.
They allow companies to do a number of things, including tailoring the content you see and ensuring the security of your online experience.
Cookies cannot be used to run programs or deliver viruses to your computer.
Types of cookies and their uses
Gadget Advisor uses cookies to save your preferences.
This allows us to help you remember what types of preferences and settings you have created within the Gadget Advisor Platform and the last time you visited our Platform.
These cookies also allow us to understand how you use our Platform, we use these cookies in an attempt to optimize your user experience.
In addition to helping us identify you and remember your preferences, we may use cookies to help us process transactions.
Cookies allow us to remember your orders and help us ensure that transactions are processed correctly.
Third Party Cookies
You may have seen references on other websites to "first-party cookies" and "third-party cookies."
Determining whether or not a cookie is a first-party or third-party cookie depends on which website sets the cookie on your device.
First-party cookies are set by, or on behalf of, the company whose website you visit. Cookies set by any other company are third-party cookies.
For example, advertising companies may use third-party cookies to serve ads when you visit their website.
Currently, Gadget Advisor uses first-party cookies as identified above. Please note that third-party cookies may be used on the Platform for advertising purposes.
What if I don't want to accept cookies?
You may choose to restrict or block access to cookies set by Gadget Advisor or any other company.
You can set your browser to notify you when a web server attempts to write or load a cookie on your computer.
This gives you the opportunity to accept or reject the cookie.
Please note that rejecting cookies may make some parts of the Platform inaccessible or cause parts of the Platform to malfunction.
Web Browser Cookies
If you do not wish to receive cookies, you can modify your browser to notify you when cookies are placed on your computer.
In addition, you can refuse all cookies or you can delete cookies that have already been set.
If you wish to restrict or block web browser cookies, you can do so through your browser settings.
The Help function within your browser should be able to assist you in this matter. Alternatively, you can visit www.aboutcookies.org, which contains comprehensive information on managing cookies in your browser.
www.aboutcookies.org contains all the specific information about cookies and their use and how to disable them if you wish.